Rapid7 is a leader in vulnerability assessment, penetration testing and incident handling. The solutions ensures to provide the right information at the right time so that you can analyze the risks, detect attacks and prioritize improvements to reduce risk. Rapid7s solutions ensures that you can quickly stop the threats.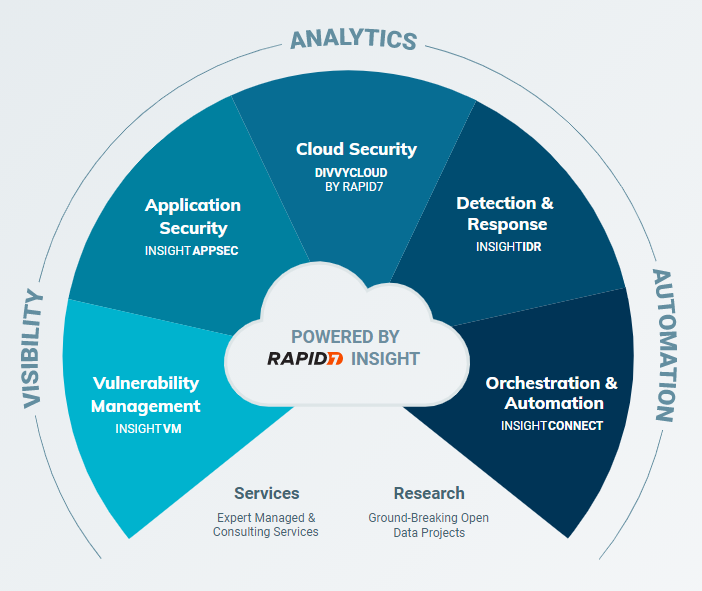 Now is not the time to wonder about your security.
In these rapidly changing times, you shouldn't have to worry about your security program. Rapid7 is here to help you reduce risk across your entire connected environment so your company can focus on what matters most.
Whether you need to easily manage vulnerabilities, monitor for malicious behavior, investigate and shut down attacks, or automate your operations — we have solutions and guidance for you
The Rapid7 Insight cloud equips you with the visibility, analytics, and automation you need to unite your teams and work faster (and smarter). Security, IT, and Development now have one-click access to vulnerability management, application security, incident detection and response, automation, and more.
Scale with Ease
Expanding your use of the Insight cloud to include multiple solutions is easy. Once your data collectors are installed, launching new Insight products is just a few clicks away.
Integrate Seamlessly
Get faster analysis, prioritization, and remediation, with your existing tools. The Insight cloud integrates with your existing technology stack, acting as a force multiplier to already-deployed solutions.
Unify Data Collection
Collect data once from across your IT environment, enabling your Security, IT, and DevOps teams to collaborate effectively as they analyze shared data.